Ann Arbor
Ele's Place Ann Arbor is the only nonprofit in our community and the surrounding southeast Michigan area dedicated solely to helping children and teens work with and through grief. Unfortunately, the need for our services will never go away. Unresolved grief negatively affects our children and teens, contributing to alarming rates of depression, addiction and violence.
Ele's Place Ann Arbor was established in 2007 by offering one night of weekly programing. In 2019, after opening the doors to our new dedicated healing center - A Home for Healing Hearts - we expanded our services to four nights, serving an average of 160 grieving children, teens and their families each week. The need for our services is critical - in Washtenaw County alone, 4,500 children and teens could potentially benefit from the services of Ele's Place.
Ele's Place Ann Arbor is open VIRTUALLY!
As we navigate the Coronavirus pandemic, the health and safety of our families, volunteers and staff remain our number one priority. We are available virtually to serve grieving children and teens in our community.
Ele's Place Ann Arbor offers ongoing peer support groups Tuesday, Wednesday and Thursday evenings, two weeks per month for grieving children and teens ages 3-18 via Zoom. Groups are offered at no cost to the families and assistance with technology can be offered on a case-by-case basis.
Age groups typically include: Preschool/Kindergarten, Early Elementary, Upper Elementary, Middle School and High School.
Groups allow children to realize they are not alone in this process by connecting with individuals their age while being facilitated by trained volunteers with oversight from clinical staff.
Support groups for the child's/teen's parents or guardians are also available via Zoom and facilitated by Licensed Clinicians.
If you have a grieving child or teen in your life, our Clinical Program Staff is available to help! Please call Ele's Place Ann Arbor at 734.929.6640 to learn more about our no cost support programs.
We look forward to the day that the COVID-19 pandemic subsides and the doors to our Home for Healing Hearts are open once again.
What's New?
To find out what's happening at the Ele's Place Ann Arbor Branch, click here for recent News, Newsletters and Impact Reports.
Tour of the Heart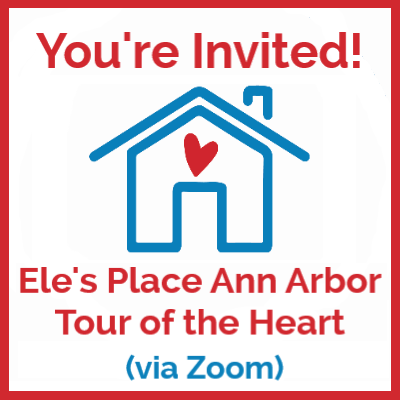 What is a Tour of the Heart?
An inspirational opportunity to learn more about Ele's Place Ann Arbor. For now, we are able to schedule remote meetings during which you will enjoy a virtual tour of our NEW program facility, meet our staff, learn about our grief support services for children, teens and their families, and find out ways you can help support our mission.
UPCOMING VIRTUAL
"Tours of the Heart" via Zoom!
Wednesday, March 17 @ 9:00am
Thursday, April 8 @ 9:00 am
Wednesday, April 21 @ 4:00pm
Thursday, April 29 @ 9:00am
Thursday, May 13 @ 9:00am
Wednesday, May 19 @ 4:00pm
To sign up for an Ele's Place Ann Arbor Tour of the Heart, please click here.
Please note, these tours are not intended for families seeking grief support. If you need assistance or have questions about grief support for children and teens, our Clinical Program Staff is available to help! Please call Ele's Place Ann Arbor at 734.929.6640 or email annarborinfo@elesplace.org.
Questions? Contact Lindsay Clark by email lclark@elesplace.org or phone 734.929.6640.
Holiday Schedule
Holiday observance information will be made available here.
Weather Advisory
Weather advisories and closure information will be made available here.
---
---
Community Board
Anita Bohn
University of Michigan
Jeanne Cooper
Luminary Counseling Services
Michael Crowley
Conlin, McKenney & Philbrick, P.C
JPaul Dixon
Hylant
LaSonia Forté
University of Michigan
Mike Halpern - Chair
Merrill Lynch Wealth Management
Ann Hollenbeck - Vice Chair
Jones Day
Mishelle Lamarand
Mishelle Lamarand Photography
Charles Ramsey
Ypsilanti Community Schools
Jackie Silhanek
Cardinal Health
Betsy Stover
Ele's Place Founder
Reinhart Realtors
Eileen Thacker
Community Volunteer
Lori Thomas
Brewer's, Inc.
Rosalie Tocco-Bradley
Trinity Health Michigan
Jim Wolfington
Chelsea State Bank