West Michigan
p: 616.301.1605
2000 Michigan Street NE
Grand Rapids, MI 49503
We invite you to join us...
Tuesday, November 5, 2019; 6:30 - 8:30 PM
Grand Rapids Children's Museum
Purchase tickets & explore sponsorship options
HERE
Thank you to our 2019 Healing Hearts Breakfast Sponsors!
Underwriting Sponsors

Welcome Sponsor
Additional Support Provided By: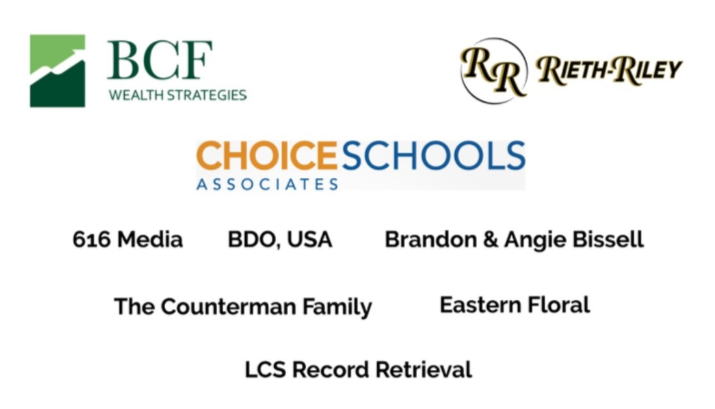 Tours of the Heart
You'll walk through our programming space where children and teens attend support groups, and hear stories of Ele's Place families experincing grief support.

Click HERE to learn more about attending a Tour of the Heart
Connect with us!
Program Information
If you are interested in attending Ele's Place support groups, please call 616.301.1605 to start the enrollment process.
Volunteer in West MI
Interested in volunteering?
Click HERE for more info!
Ele's Group School Based Support
Ele's Group School Districts Served Since 2015:
· Cedar Springs Public Schools
· Choice Schools
· Godwin Heights Public Schools
· Grand Rapids Catholic Central School
· Grand Rapids Public Schools
· Grandville Public Schools
· Holland Christian Schools
· Kelloggsville Public Schools
· Kenowa Hills Public Schools
· Kentwood Public Schools
· Rockford Public Schools
· Thornapple Kellogg Public Schools
West Michigan Staff
Tammy Squire
Director
tsquire@elesplace.org
Julie DeJong, LMSW
Program Director
jdejong@elesplace.org
Administrative Staff
Kristy Ziegler
Administrative Assistant
kziegler@elesplace.org
Alyx Newton
Fundraising & Administrative Coordinator
anewton@elesplace.org
Bereavement Coordinators
Michaela Ayew-ew, MA, LPC
mayewew@elesplace.org
Karen Ketterer, LLMSW
kketterer@elesplace.org
Amanda Stowitts, MA, LLPC
astowitts@elesplace.org